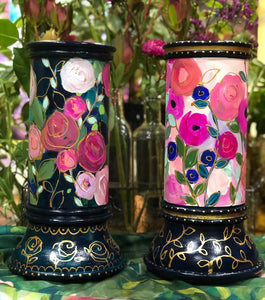 Wishing Well
Regular price
$495.00
$0.00
Unit price
per
An original work of art hand painted by Carrie Schmitt and hand carved and exclusively designed by master craftsman Gordon Ferrier. There is currently only one available. We also take custom orders.

Inspired by the Tibetan prayer wheel, this wishing well is a container to hold your deepest wishes and to spin this energy out into the cosmos to put it in motion OR call in what is on its way to you.

There are a few ways to use your wishing well.

1. Write your prayers or intentions on paper and place them inside. Then spin the cylinder to release this energy out into the world or to call it in to you
-and/or-

2. Say your prayers aloud or silently or adopt a simple mantra or prayer (it can be a word or phrase) to repeat while you spin the wheel.

This is a beautiful way for families to express their spiritual needs and gratitudes together and to pray for one another by spinning the wheel that holds their collective dreams.

You can spin it any time you walk by to touch your prayers. The wheel acts as a visual aid to stay connected to your deepest longings.

The universe loves motion, which shifts stagnancy. The wheel allows the mind to still while the body is in motion.

There are many ways to pray and send our intentions out into the world. Prayer beads, using smoke to send our prayers skyward, singing, dancing, and chanting. All of these are ways to express and put intention and power into our deepest prayers.

According to the lineage texts on prayer wheels, prayer wheels are used to accumulate wisdom and merit and to purify negativities. It is said that even a bug that crosses a wheel's path benefits from its energy.

Prayer wheels are believed to bring wisdom, compassion and spiritual powers such as intuition and clairvoyance.

It is recommended to spin in a gentle rhythm.
Please note this is a listing for one wishing well. Two are pictured to show what is available. Please specify which one you want.
---
Share this Product
---