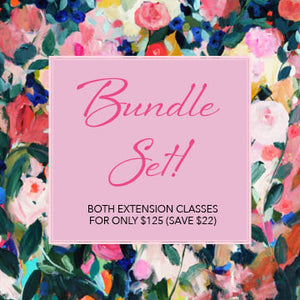 BUNDLE SET--BOTH EXTENSION CLASSES!
Regular price
$125.00
Sale price
$147.00
Unit price
per
FLORAL BOUQUET EXTENSION CLASSES BUNDLE SET INCLUDES:
1. HOW TO CREATE A PAINTING SERIES ONLINE CLASS
2. OIL PASTELS SAVE THE DAY ONLINE CLASS
Both are self-paced and pre-recorded. Class access for 2 years.
Read below to learn more about each class!
 (PLEASE NOTE: NO OTHER DISCOUNT CODES CAN BE USED WITH THIS ITEM. THE DISCOUNT IS ALREADY INCLUDED IN THIS BUNDLE PRICE!)
HOW TO CREATE A SERIES CLASS
Now that you've made gorgeous expressive florals in Floral Bouquet + Pattern Play, let's create a series based on this art!
You have done the intensive work of creating your floral designs, patterns, and color palette. Now, you can continue to use these to create new original art. Each time you do, you will discover new expressions within you!
To get the most out of your effort and time, it makes sense to turn these beautiful floral and patterns into a series.
Why is a series a brilliant idea?
 Creating a series from all the raw material that you've spent time gathering and creating is a win-win for an artist from a creative development and business standpoint. It is also a gift for others.
You can continue to develop ideas and designs with a lot of the work already done for you. (It is efficient!) You will be amazed where this journey leads. Essentially, the original has clues and prompts for future work. This will guide you in new directions that will surprise and delight you!
Create smaller affordable art. Often people will fall in love with one of your large originals but cannot afford it. A wonderful alternative is to create a series of smaller pieces that complement the larger painting. By creating a series of small originals based on your large piece, you are giving people a chance to own something they love.
****************************
WHAT TO EXPECT
In this self-paced class, I share how I pulled elements from one of my floral bouquet paintings to create a smaller series of 9 paintings from start to finish. Types of paintings include abstract, faces, wild florals, and more.
From these 9 categories of paintings, you could create an endless amount of art! These series could become even more mini-series. 
I demonstrate the balance between using pre-designed elements while still listening to what the painting wants to be and how to incorporate both practices together.
More conversation as I work about my painting approach and philosophy.
****************************
OIL PASTELS SAVE THE DAY!
Learn how to use oil pastels to create gorgeous floral expressive art.

Oil pastels not only add beautiful texture and dimension to art, but they also can jumpstart the process when you are stuck.
In this self-paced class, I will share how I incorporate oil pastels in my acrylic artwork by demonstrating a painting from start to finish.
Sign up for the BUNDLE SET--this class plus HOW TO CREATE A SERIES! See listing.
OPENS: June 1, 2020
---
Share this Product
---